Sandra Bullock is one of my favourite actresses. Yes, I do have a handful of favourite actresses, and although sometimes I doubt Ms. Bullock's range of emotions, she shatters that doubt everytime I watch Hacker, Premonition, Lake House, or the totally awesome Crash.
I remember Miss Congeniality 2: Armed and Fabulous. It's one of the most gorgeous, funniest, totally underrated movies. Plus there are fabulous lines and dialogues in it that I live by.
One that I remember well was from the beginning of it. It was when Sam Fuller (Regina King) "accidentally" bumped Gracie Hart (Bullock) and delivered a non-wholeheart "sorry". Yeah, Hart was indeed pissed.
The following dialogue is ensued before a fight erupts.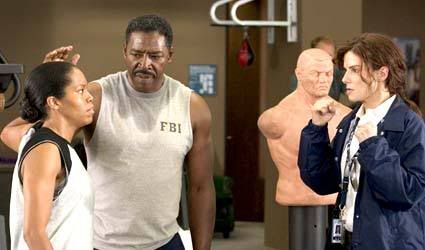 Gracie Hart
: How about a real sorry?
Sam Fuller
: Come again?
Gracie Hart
: You heard me. I said how about a real sorry.
Sam Fuller
: You are about to feel some real pain if you don't back off
Gracie Hart
: You don't want to talk to me about pain, sister. I invented pain alright.
Sam Fuller
: You didn't just call me sister, because I don't recall seeing a little skinny ass white girl around the table growing up.
Gracie Hart
: HEY! First of all thank you for calling me skinny, second of all what is your problem and third of all you'd better apologize to me.
Classic.
Now, Bullock (or Hart) is not skinny. Nor is she overweight. She is a healthy, HOT woman. In the movie, she doesn't really emphasize the need of being stick thin, but I think like (almost) all women, Gracie Hart does think that being skinny means being more gorgeous.
When I first entered the gym, my intention was not to bulk up. I said I wanted to look like Kylie (Minogue) - with nice, shapely ass and tone, flat abs. I ended up looking like Janet (Jackson) - with a heck pair of arms and... well, and my ass does look a little bigger.
Earlier today when I checked my facebook account, I noticed that my friend had put up a photo of me dancing during last Sunday's "Shimmering Shimmies" and there was a comment that followed.
I wasn't ready to read what I read. But I did read it and it said, "Wait, the dancer doesn't have breasts and has really thin stomach. How can that be a belly dancer?"
Well, first of all, whoever you are, thanks for calling me thin.
Second of all, I can't forgive you for being ignorant and loud about it. I mean, okay, so you don't know anything about belly dancing. If you don't know anything about it, SHUT UP!
I can't believe how enraged I am. But I am very offended and upset. I am so sick of this body image thing. I am so sick of people telling me that I cannot, may not, and must not dance because of my size.
Those who tell you that stick thin people rule don't know anything about life. We are just as irritated by this hullaballoo as the big-sized people are.
Those who tell you that people who don't have great bodies should just stay at home and never come out and do anything that they greatly desire should be tortured and put to death.
Dance, like EVERYTHING else in this life, is created for those who dance well. And the first rule to dance well, like EVERYTHING else in this life, is to be passionate about it.
I have two extraordinary teachers who are not cut like Giselle Bundchen. I have seen them danced and they deliver the dance perfectly. None of my dance sisters have the zero-fat supermodel bodies, but when we dance, we dance with passion.
So don't tell me I don't have the body to belly dance. Criticize my poor and amateurish technique, but never my physique.
So there.