Oh, man, this was supposed to be done in JUNE!!! As in, June 2009. Oh, and happppy new year!! I wish you all the best for this whole year of 2010.
But yeah, maybe I should wait a little (as in more than 6 months) to actually write something like this.
I met Lilith almost a year ago through
Triballine.com
and I'm going to share with you the way I clean and dance with her. I've been doing this for almost 8 months now and she's still in good condition. So I think whatever I'm doing actually works for her and me.
I'm really new when it comes to dancing with a sword and there're things that I think are really helpful to keep the scimitar balanced.
Tip #1: Don't get a haircut too close to the performance.
Or if you do get a haircut, don't cut your hair too short. I love a clean, spike-haired look, and it works for me. One time I got a crew-cut and Lilith tended to fall off when I balanced her on my head and did the spins. The hair, even without hair wax, really hold the sword.
Tip #2: Smooth and silky hair is... smooth and silky.
And steel (or metal... or almost anything else in the world) tends to slip more easily on smooth and silky surfaces. How to not get smooth and silky hair? Easy. Don't rinse your hair for at least two days. Again, I've the advantage of being a guy so it doesn't matter. Some of my dancing sisters have really long hair so I know that'd be really inconvenient for them if they had to give up shampoo for two days.
Tip #3: Wax.
So you just washed your hair and suddenly a friend of yours called you right when you were just drying off. He wants you to do a sword dance to entertain his clients in a posh middle-eastern eatery. Don't fret, don't panic. Just wax the balancing part of the blade. Rub a candle on that part or, for a better grip, get the wax used by surfers to rub on the surfboards. I don't find this in stores in Jakarta, but if you happen to be in Bali or in other surfing paradise in Indonesia, go buy two. One wax can last for at least 5 years, though. Or so I think. I recommend a brand called Sex Wax.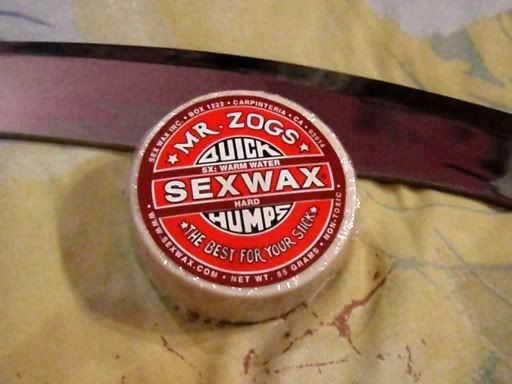 My boyfriend bought two of this for me. The copy on the packaging is just sooo cheesy!
Tip #4: Work those muscles!
I've been doing crunches, push-ups, back-ups, balancing poses with Lilith on my head. The exercises not only form a deeper tsahaylu (I can't help myself... I'm such a James Cameron's "Avatar" freak. Tsahaylu is "bond" in
Na'Vi language
) between Lilith and me, but she also acts as a weight, therefore creating a more challenging routine. And of course, what's a crunch, push-up, or back-up but a form of floor work? Oh, and balancing a sword on your head is child's play once you master the isolation techniques. Try balancing it on your hip, palm, or fingers, chest, shoulder, of course while manipulating the scimitar and doing movements at the same time.
Like this video here.
Okay, so I know she's doing a double sword routine, but oh my God, did you see how she handles those things? Amazing! I mean, she's not just balancing them, but she's also making those scimitars as the extension of her body. I notice twirling the sword like a cane, I notice spinning and doing barrel turns with the swords like doing double veil, and other powerful stuff.
Now that's sick.
Tip #5: Leather makes rust.
Lilith came with a leather scabbard. Never put a scimitar in the leather scabbard and store it that way. It'll rust faster. The scabbard is good to carry the sword (it covers the sharp edge and the pointy end). I'm saving my paycheck to make Lilith a really nice velvet carrier.
Great. We've that one covered. Let's move on to how to clean your scimitar.
Lilith is a Balady Sword, a smaller version of the Cas Iberia Sword. The blade is stainless steel while the hilt is of brass with a wooden grip. It is shiny and it grips really well. It is rather heavy, though, like 1.3 kg (try putting that on your head), so it's a good work out.
Here's what I do to her.
Step #1: Take off all adornments.
I embellish Lilith with two shelled opals, back to back. And there's a hole on the end brass knob on the hilt that I use to tie in short cowrie shell accessory (I'll put up the picture in my next entry). Take off whatever adornments you put on the scimitar to get a more thorough cleaning.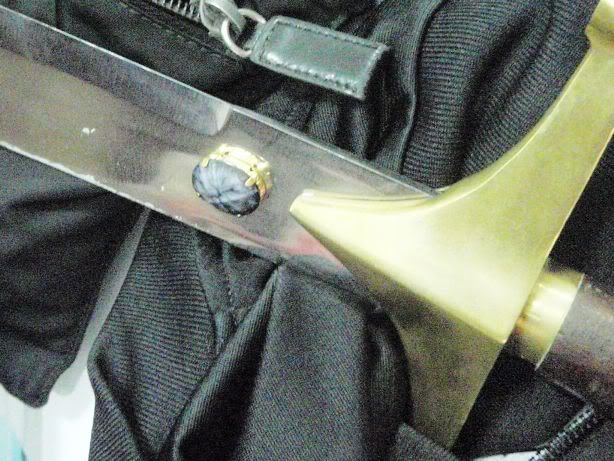 Step #2: Spread metal cleanser.
I use KIT Metal Polish Cream. I spread them on the blade and later on the brass hilt and knob.
Step #3: Wipe clean.
A soft towel will do. A harsher towel will help clean off harder stains such as wax residue. I use a really soft cloth to make sure I don't scratch the blade when wiping it.
And there you have it! Three simple steps to clean your scimitar! Happy dancing!