"The Dance Within", the first annual recital of DanceWave Center Jakarta, was a success. We danced in front of a sold-out audience. It was just too bad that some who had bought the tickets didn't come to the show.
There were mishaps with the lighting and the sound, but in overall, the audience was impressed. We got great reviews and we're currently attaining the feedbacks from people for the post-mortem evaluation.
That evening, I danced three times. The first one was in the first act, I danced with our professional troupe, The Velvet Raqs, with veils to "Eternal Cry" from Kamasutra's Soundtrack and "Ice Queen" by Paul Dinletir. Up next was Lilith and I dancing a Balkan number to "Fanfara Mocvara" by Figli di Madre Ignota. The third one was a hip hop vs. oriental dance battle to a Middle-Eastern influenced hip hop song by Che'Nelle called "Teach Me How to Dance".
In the battle song, the hip hop and the oriental troupes demonstrated that there are several movements in hip hop and oriental that look alike and follow the same principles. These movements, although alike, are fairly different, yet can move together in harmony.
Okaaay, so I danced four times. The last one was a cheesy dance number that I choreographed as the closing dance for all performers to dance to. It was cheesy, really fun, and really easy. It was so High School Musical type of dance to "Dance Little Lady Dance" by Tina Charles.
I got flower bouquet from a dear friend, three kisses from my boyfriend, a big hug from Mom when I got home (the entire family watched the show), and loads and loads and loads of fans who asked me to pose for a picture with them. Of course I tagged Lilith along. She deserved the credit as well!!
Anyway, I'm glad we can put the show behind us and still bask in the afterglow of the spotlight. Here's a picture of me balancing Lilith on my head.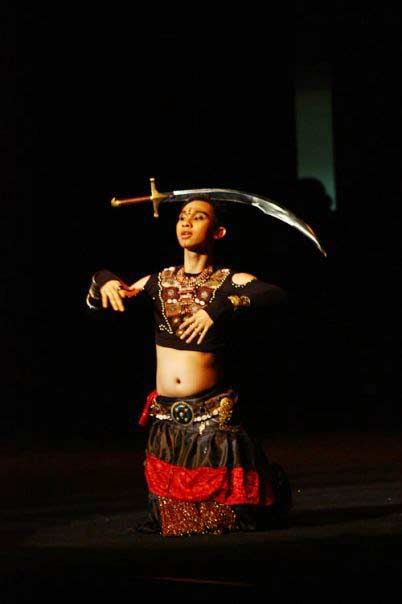 Photo by
Troy Norman (2009)
Next stop, Las Vegas!