Ever since I was a child, I have always been very competitive. In primary school, although the youngest, I always came on top in class. I was very much into dinosaurs and paleonthology that when Dad came back from abroad, he would bring me these great dino books and I would just read them over and over and over again and memorise the whole names of the animals, where they had lived, who found the fossils, the period they lived, their diet, and all that jazz.
I was accepted in the best all-male catholic school (and I'm saying this with great pride) and things started to change. I found that I had difficulties in the likes of math, physics, economy, and excelled in languages. Art was also available but limited, so I tried my best in drawing and always won second prize during singing competition between classes. Still, I was struggling so hard with my grades that at the end of each year, I would be worried sick whether or not I would be able to pass.
The same thing also happened in senior high. My hopes and dreams of becoming a palenthologist were dashed because of my grades in math, chemistry, and physics were so low that they placed me in the social sciences class. In the beginning, I was sad. I mean, I had always been the glamorous one and being placed in the social science class made me feel like I was stupid (it was, and is the law. Students in the natural science classes are regarded as smarter, while those in the social science classes are problematic, lazy, or just plain stupid. Of course having high grades in school has nothing to do with striving in real life).

Archeopteryx, my favourite dinosaur.
But I managed to make it came up as the top ten in class.

University life was so much easier, although getting in was not that simple. At first, since I totally love listening to people's stories and giving them advice, I thought that I'd be a great psychologist. I applied to a university but was not accepted because I kind of made a blunder out of myself during the group discussion. Well, it was an all-day thing.
Beginning with the written test at at least 9 in the morning. Since I also applied for the English Department, I had to be interviewed. This happened during lunch time. I passed the interview test (and was accepted) easily. I can't say the same thing during the group discussion for the Psychology Department.

Thanks to my name, the group that I was in was called the last. It was at least 8 in the evening, I was so sweaty and so tired that I couldn't concentrate. We discussed about a couple, a man and a woman. They would wed the next day and they were thinking of having sex the night before their wedding. The question was, what should we advise?

I swatted the damn query by flatly saying, "I don't think I give a (expletive). I'm gay and I'm not into that sort of straight stuff."

The interviewee and the fellow participants just stared at me for 5 seconds and she continued, without blinking, asking the other guys what they thought.

I flunked the test and got into the English Department instead.

However, I also applied for the Communications Studies in University of Indonesia - at that time was the best university in Indonesia and the best place to study communications.

And you know what? I was accepted! That was one of the happiest moments of my life. Screw that private university that rejected me. I was accepted in the best public university in Indonesia! Which means: 1) my pride was boosted (Mom and Dad also graduated from that university), and 2) the tuition fee was much, much lower.

After my childhood dreams were dashed, I went on dreaming to become a journalist. But not just a journalist, a war journalist. Yes, I am a sissy, but I love it when adrenaline rushes in and war is so emotional, just like me. At that time, I had no idea who Anderson Cooper was, but that would be an even bigger added value. He's such a hottie.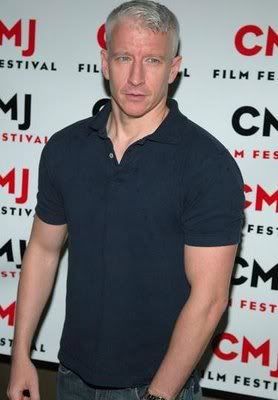 Anderson Cooper, the CNN anchor...
Mmm... I suddenly feel the urge to grind my crotch against those arms...

But of course, although I love writing so much, I ended up studying advertising, which was a bit of everything (it had writing as well as design classes, and I found out that I had hidden talents in designing - some of the talents still remain obscured, though. HAH!).
Graduating was not hard. My GPA was enough. But somehow, for whatever reasons, I needed no less than eight months to land myself a job. And truth be told, I had never dreamed of having this job. Still, I manage to survive and I've been doing it for more than three years.
My point is, in many times in my life, things didn't go according to the schedule. I had to give up my dreams of ever becoming a paleonthologist. Of course being a paleonthologist means getting your hands (and nails) covered in mud, having skin problems from being exposed to the sun for too long during excavations, and a very small chance of meeting cute guys.
And then, being a psychologist means listening to people's rants without actually giving real advice, just being the garbage can of stories, and, if you finally end up doing the human resources job recruiting people... I just don't have the knack for that.
Of course I also dreamed of being a journalist, of being able to travel and see the world, meet new people and deliver neutral angles of the stories and being professional, but that dream was also dashed because not one media company hired me.
So again, I cast the dream aside and became a public relations executive.
Dancing has always been my passion and I wanted to be... *drumroll, please* a ballerina!
But then, I was drawn to belly dance, had some lessons in the local centre, had some praises, and thought of myself as a good male belly dancer. After having lessons with Ms. Aya, I realised that there are just so many things out there to be learned and I had to practically learn everything from zero and I don't think I can manage.
Just after completing tonight's lesson, she asked me where was I going to take this dance in my life. I told her that before going to Greece to study with her, I had thoughts of opening my own dance academy. I don't want to keep working for someone. I want to work for myself! That's where the real money is. But then, after meeting her, I should reconsider because, again, there are so many things to learn. I couldn't just open a belly dance school without knowing what a belly dance is! That'd be misleading! And she remained silent.
In the car when she drove me to the nearest taxi stop, she told me something that I hope I will never forget. She said, "Follow your dreams. In life, we never stop learning. Never feel bad because you can never really master something. In the end, if you dream about something, that means you're passionate about it. Then you should so something about it and it will take you places."
And just at that very moment, a dear friend of mine, thousands of miles away from where I was, also wrote the same thing in her Facebook Notes.
So I don't know. Right now, I'm just building the whole foundation of the belly dance. Later, we'll just see.
Wish me luck?