Oh, whoa... I'm doing two posts in one day! In less than one hour after the earlier one was posted! How unthinkable.
Anyway, yeah. About a year ago when I was really new to the whole Tribal thing, I found a really cool link at LiveJournal. It was a cowrie-shell hairfall tutorial. I was in love with cowrie shells. I mean, there's something that's just so... Shaman-y of them that draws me. Not to mention that somehow, when being strung together, they look like a spine. Pretty creepy, huh?
But the tutorial seemed so hard and I kind of forgot about it.
A few weeks ago, I remembered that I had bought cowrie shells like a long time ago and remembered the tutorial and went to search for it. I mean, I didn't want my cowrie shells to go to waste. They'd been sitting there for almost a year then.
I found the tutorial again (click
here
... but omigod I don't know what happened but the pictures are gone!! Maybe I should notify the girl, huh?) and tried doing it and now I'm officially addicted to weaving cowrie shells, both for hair falls or other adornments. I even made one (well, two) for Lilith.

Oh geez, you know what, I'm still thinking how lucky I am to have found the tutorial just in time before the pictures went off!
Anyway, finding cowrie shells in Jakarta is rather hard. I mean, I used to get really nice big ones from a store in ITC Kuningan called Violetta. The store also sells really cool beads. I'm now friends with the salesgirls and the owner and they always give me good bargain! Violetta is on the fourth floor.
So one day I went to Pasar Pagi Mangga Dua with
Alex
. Half of the third floor sells beads and steel clasps for shoes and belts, and oh my god, more beads and paillettes and shiny stuffs!! I found a really good bargain for cowrie shells here (I forgot the name of the store, I'll need to get back to you on that). It's like a whole bag of cowrie shells and it only cost USD 4. Neat, huh??? Too bad the sizes of the shells really vary so I need to pick the shells and arrange them based on the size.
Another stand-out store in Pasar Pagi Mangga Dua is Istana Payette (Paillette Palace). Everytime I went there, I always splurged! It's not my fault! They have really cool Indian (although modern) accessories that you can use to adorn your belt, bra, etc.
For the wool, I went to Lenny's, a really neat store also in ITC Kuningan, 2nd floor if I'm not mistaken. They have all kinds of wool. Glittery(I bought gold), synthetic, etc. I got a big bundle of wool for USD 2.
If you're looking for peacock feathers, pheasant feathers, boa, etc, I think it's best to spend your money in Toko Renda (available in Plaza Indonesia and Senayan City). A peacock feather costs only USD 1 in Toko Renda yet costs USD 1.5 in stores in Pasar Pagi Mangga Dua. UPDATE (December 17, 2010): Toko Renda (at least the one in Plaza Senayan) somehow stops selling the big, big peacock feather. Only the small, blade-like ones are available. So if you want nice, big peacock feathers, go to Pasar Pagi Mangga Dua.
So here they are, the results. I'm really addicted to making them that I might do this for a living!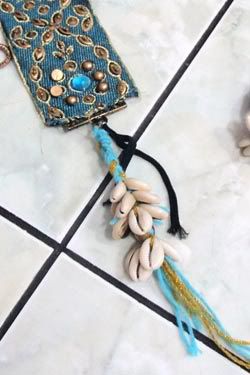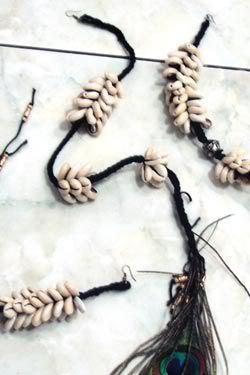 (From up left to bottom left, clockwise or up to down: a blue-gold cowrie fall for a wristlet, a red-black cowrie fall for Lilith, and long black cowrie hair falls)
Now everyone who's been to my house will notice that in every place I spend a long time in, there'll be a mess. When I was still working in a cubicle, my cubicle was the messiest, most chaotic place in the whole office. And I was working in a hotel.
I needed boxes and cases to store my needles, whole and cut-out-don't-throw-me-out-just-yet fabrics, scissors, beads, clasps, cowrie shells, tweezers, etc, and luckily, Alex and his mate gave me a nice can of chocolates. And what's so nice about it is that there's not only the tin can, but also two bags used as the package for the tin can. Neato!!
So here it is, my being cheap and recycling.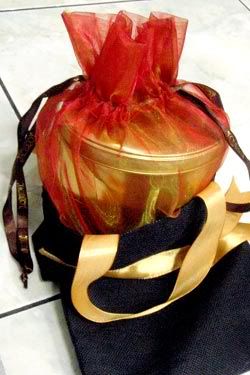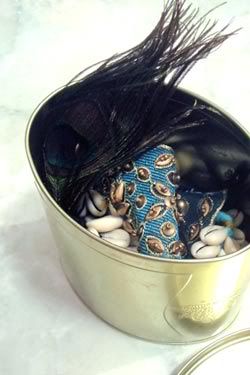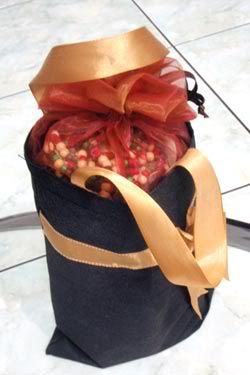 (From up left to bottom left, clockwise or up to down: The chocolate package, the peacock-feathered hairfalls go into the tin can, the little and not-so-delicate beads go into the tulle bag, and everything is stuffed within the black cotton bag for easy and safe travel)
Mom gave me a really cute shoe box (is glittery pink) and she told me to store away all those beads and lead a cleaner life.
Sigh.